Sheffield Music Trails pulled together a glorious eclectic mix of bands and artists, linking in with a staggering nineteen of Sheffield's finest pubs, venues and DIY art spaces.
All for the price of absolutely nothing. Unsurprisingly, The Leadmill was heaving by 7pm.
The energy was screaming defiance and communal togetherness, it's been less than a week since the historic venue announced that it may close its doors in a years time due to a breakdown between management and the current landlord of the building.
We at NDR stand firmly behind The Leadmill. #wecantloseleadmill
There's already a packed out crowd awaiting the last three bands due to close the one day event. A special mention to Brighton's Youth Sector, who dazzled the crowd with their high energetic sound and presence. If you're after a band to watch this summer, then look no further than these guys.
The bassist threads the bands sound with a funky groove throughout the whole performance, all five members could be a frontman, they mesmerised the crowd from the get go. Imagine Kraftwork on E.
Now for the main support and to be quite honest, it's who everyone is there to see, including myself. The crowd is now pulsating with a beautiful tense energy and on stroll Bedroom High Club to a rapturous applause.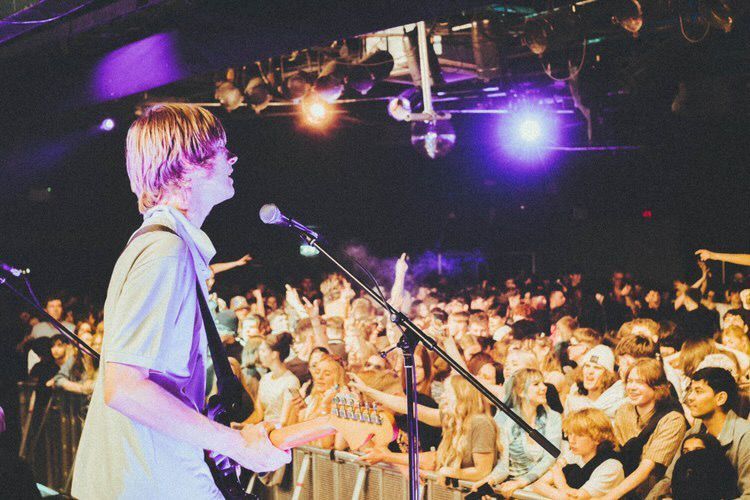 Considering these lads are actually from Barnsley, the loyal supporters they have in Sheffield is simply mind blowing, it's not much of a surprise really as they only play minimal gigs each year and have a special relationship with The Leadmill, it really shows, as they waltz on stage as if they were walking into their living rooms at home.
They take a few hiccups in their stride, culminating in their drummer having to play the entire set with his kick pedal backwards. No fucking problem for this lot. They just ooze confidence and as soon as their frontman Blue launches the band into the first track, they've got the crowd in the palm of their hands. Two songs in and there's folk on each other's shoulders, pits are starting to open up and there's free form breakdancing happening right in the middle of the floor, it's magnificent to see. They further boot open the sonic sound doors with their recent single, Hard Talk. Blue shifts from a delicate toned lyricist to a full Cobaine rasp aggressor with ease leading into the chorus, sending the obeying crowd absolutely wild. This band are in their early twenties yet they sound as if they've been playing together for thirty years.
I'd say expect big things from Bedroom High Club, but they're already on a level that could master any stage in the country, so it's a matter of when not if. Do not miss their ascent to the very top.
Photo Credit: Morgan Sidle