I love finding new music, I really do. But one thing that really encompasses me like nothing else, is reconnecting with music that has brought so much comfort and wonder to my soul over the years.
If I could pin point one band that this statement relates to, it would have to be The Joy Formidable. The welsh three piece energy givers have created memories inside my being that will never be forgotten, songs that when I hear them, instantly turn my heart to mush, filling me up with love, passion and magical excitement from a five second intro.
The truth is, this bands music has saved my life, literally saved my life, at the depths of depressive thought and abject fear, I'd lay staring into the abyss of life, no meaning or worth to carry on and then, like a sprinkle of magical atmospheric fairy dust, 'The Greatest Light Is The Greatest Shade' speaks to me, 'A calm day will come' and I believed, I wholeheartedly believed that it would, in that moment, I had hope, they gave me that and I will never truly be able to express how grateful I am to them for that.
Over ten years after experiencing that, my calm days did ultimately come and a few days ago I had the absolute pleasure of speaking to Ritzy, TJF's lead front woman and all round beautiful soul. I got to thank her for making me better, for making me believe that there's a light at the end of the tunnel, I love that about music, it's a wondrous thing, it can change your mood for the better in an instant, it's truly mystical and I urge anyone feeling down to listen to that track for uplifting inspiration. It saved my life and it may just save yours.
I'm still in truly humbled that she agreed to be featured on the magazine, a real full circle moment, we spoke at length about all manner of things, it was one of the calmest, most spiritual moments of my entire life and I want to thank her again for taking the time out of a very busy schedule to do that.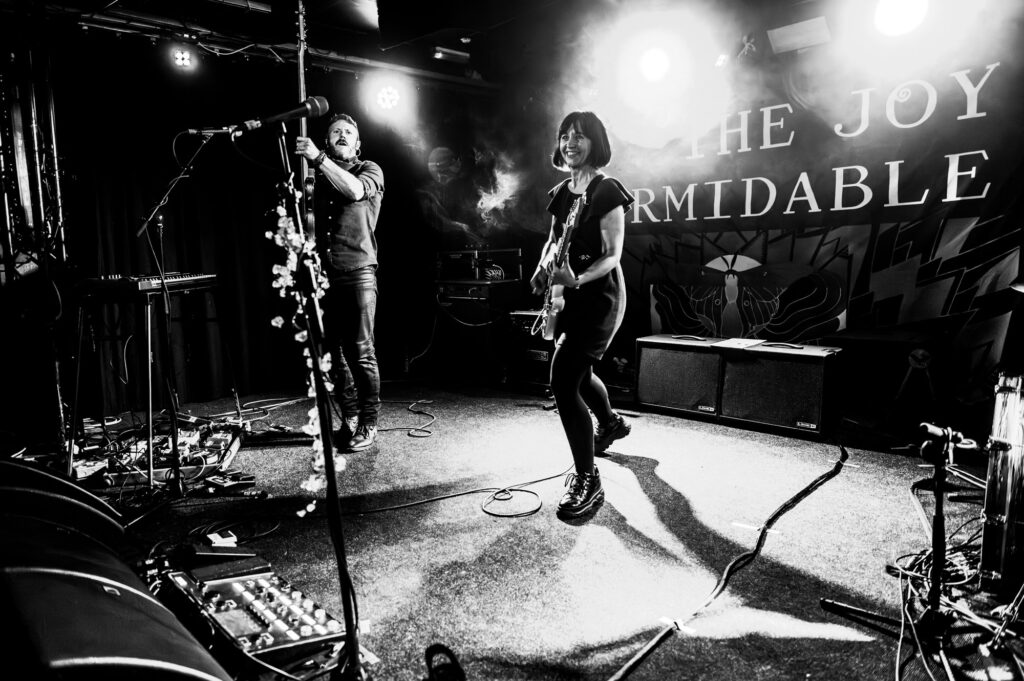 The Joy Formidable – 'Cradle You Again' tour commences on the 20th September, their first in four years in the U.K. – How are you feeling about it all?
'I am constantly taken by surprise by touring to be honest, whatever experience you've had in the past, obviously we've been a band now for over ten years and you go play a gig somewhere, then you return and it can be completely different from the first time you played.
I think that's the beautiful thing and just very much about the moment. I think that's what I try to tell myself now is you have to go into a moment completely open, I think it's lovely to go into it with no preconceptions. I think I've become a lot better at doing that in the last five or six years.'
The band recently released the single 'Cut Your Face' – A beautifully atmospheric, psychedelic fuzzy output teamed with mesmerising visuals by Francesca Lawrence.
'Francesca is our drummer's wife. She's brilliant, she's a collage artist and she did a beautiful job, it added a little bit of a Monty Pythonesque vibe to me.'
How do you keep being creatively consistent?
'Looking back, there's been a few wobbly bits, but writing ends up becoming just a very natural part of your life, I'm always grappling for something to write something down, it does end up becoming entwined in your everyday observations.
For instance, over lockdown i felt like it regenerated me as a writer a little bit because sometimes when you are on tour, certainly a band like us who've toured a lot, it feels like you can end up just with a lot of different heads and you're trying to slot everything in.
We were making albums on the road while we were still touring and then coming off the road, having to move the studio to somewhere else, then have to pack it up and take it back out on the road, that's obviously worked for us over the years and it's part of having to be quite dynamic I think. But there was something quite nice to just sit back for a minute and have a little bit more space and time and observation and just be like, hold on. You know, where am I actually at the moment?
Sometimes when you're on the road, you can lose quite a bit of yourself because it's a really exciting wheel and I'm grateful for it but it does end up covering up quite a lot of things that you haven't necessarily dealt with. I think you just have to be really patient and kind to yourself.'
Share My Heat is the new track from a trio released by The Joy Formidable and is over 15 minutes long, it winds its way through numerous musical shifts, twists and turns in relentless but exhilarating fashion.
'It's a song about true connection and love. Deep, selfless love between humans is a beautiful part of our existence, but I'm also singing about our inherent love of nature, the living world and our kinship to everything: plants, animals, mountains and water. Can we repair our relationship with the earth and bring more reciprocity, compassion and companionship to a world that already gives us so much.'
On Focus Wales
'It's lovely seeing the festival really grow and thrive, I think it's really great for some towns and cities to have that weave of the arts and music running through them, bringing the community together and Focus Wales has just been curated so well.
I think the line up every year is just mind blowing, It really is and it's a great source for finding new music. We saw Walt Disco who we love and HMS Morris who are a Welsh language rock band, they're awesome.'
What musicians inspired you growing up?
'I was really lucky growing up because my mum and dad were big record collectors, so I had a big library to just dig into, they had thousands and thousands of vinyl and I was an only child up here in North Wales in the middle of nowhere.
They used to take me to a lot of gigs when I was little, one of the reasons I got into playing guitar was definitely seeing Elvis Costello, I just loved the energy and the fuck off'ness. Van Morrison, Richard Thompson for guitar playing for sure and John Martyn. Really fucking unique.'
NDR is on a mission to help artists and musicians understand the mental health and addiction pressures that come with being facilitated within the music industry, we are trying to spread awareness by asking our featured artists to give advice in hope that it helps the future generation of artists and musicians create a safer passage for themselves.
'I think the most important thing is you've got to surround yourself with good people, you've got to surround yourself with authentic, peaceful people, you are a family ultimately when you end up in a band and you go out on the road together, you are sharing your core values and having each other's back is a huge part of having longevity in your career.
In the music industry, you're inevitably going to come across people who maybe aren't so wholesome or don't really give a fuck about being your friend so i think it's really important to have that grounding from people that are around you.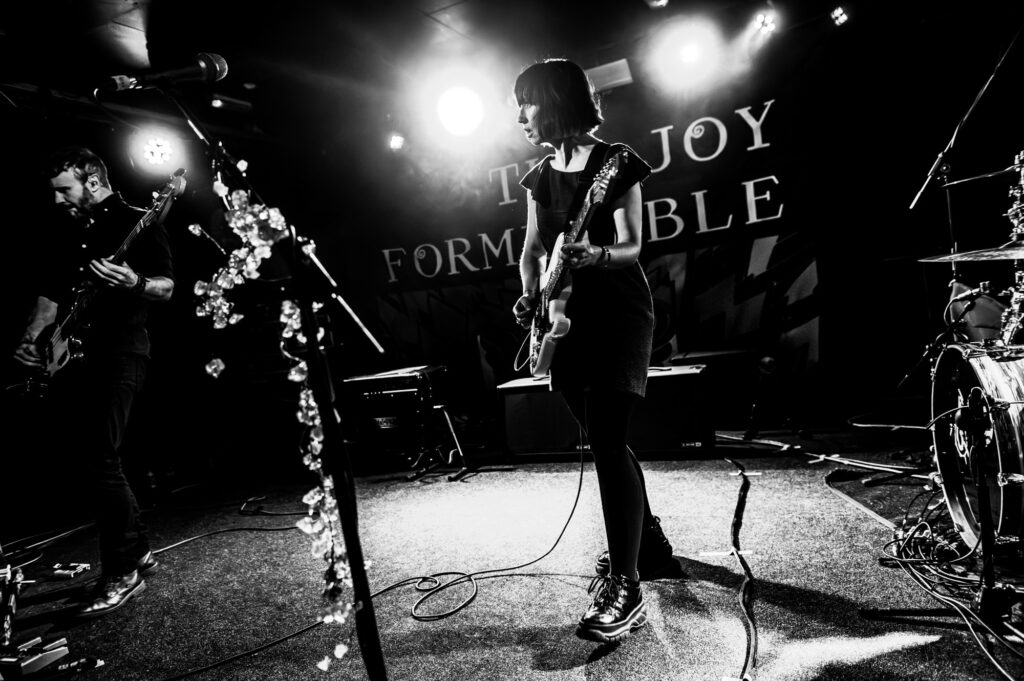 You have to look to yourself as well to also make sure that you've got that emotional maturity and that you're healthy and working on yourself, enjoying the moment and being mindful and taking stock of that consistently, because it moves very fast, you can get swept up and you don't always look after yourself that much.
Often you're a sensitive person, you lean into music, you've had stuff that happens to you that drives some of the creative force sometimes in the early days but just make sure that you don't get too much of your identity wrapped up in the ups and downs of the music industry because it can be quite destructive. I'm still tussling with that but I'm doing a lot better now but it's been constant work.'
GO AND WITNESS THE JOY FORMIDABLE…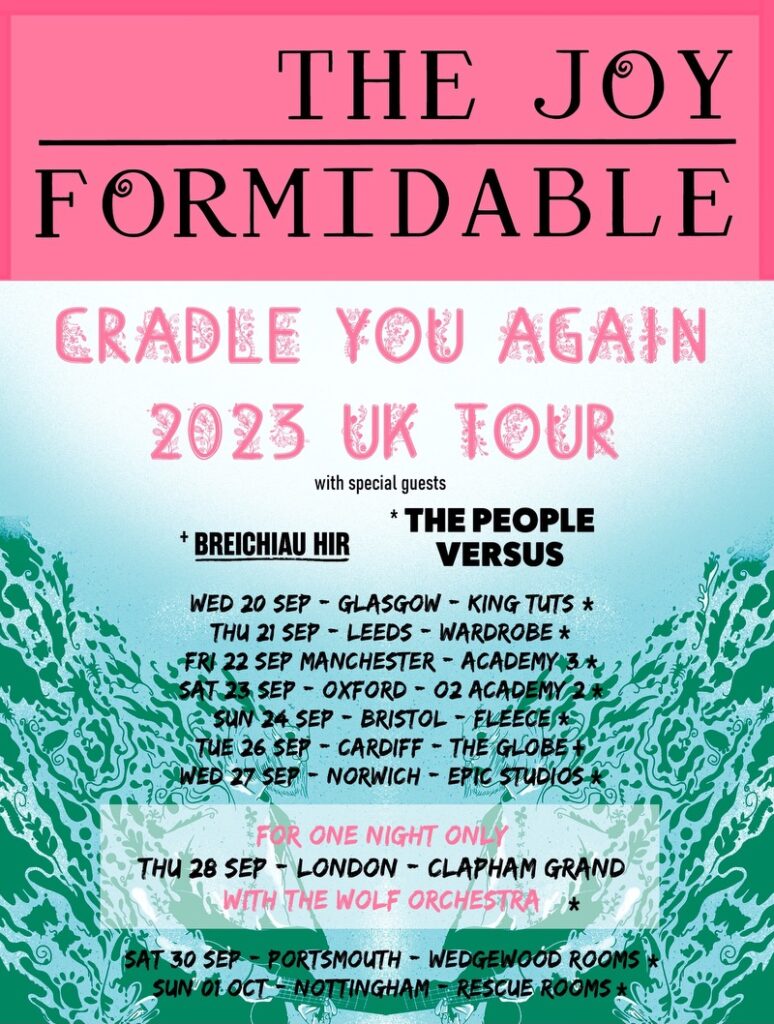 The band's 'Cradle You Again' tour commences on 20th September.

26.09.23  CARDIFF The Globe
27.09.23  NORWICH Epic Studios
28.09.23  LONDON Clapham Grand *
30.09.23  PORTSMOUTH Wedgewood Rooms
01.10.23  NOTTINGHAM Rescue Rooms
*with the Wolf Orchestra