Contrary to popular belief, Acid Klaus is not the alter ego of the legendary DJ in residence at the Rovaniemi house, funk and rave festival in Finland, (although I'm certain he would approve) but it's actually the frontal lobe projection of Sheffield's cultural agitator, Adrian Flanagan.
Having previously been at the fore of outsider collectives such as juiced up party favourites International Teachers Of Pop and The Moonlandingz who in their time established firm connections with Yoko Ono and Sean Lennon respectively.
Also known as an influential champion of the DIY fringe scene in South Yorkshire – Adrian has now launched his new project, the aforementioned – Acid Klaus.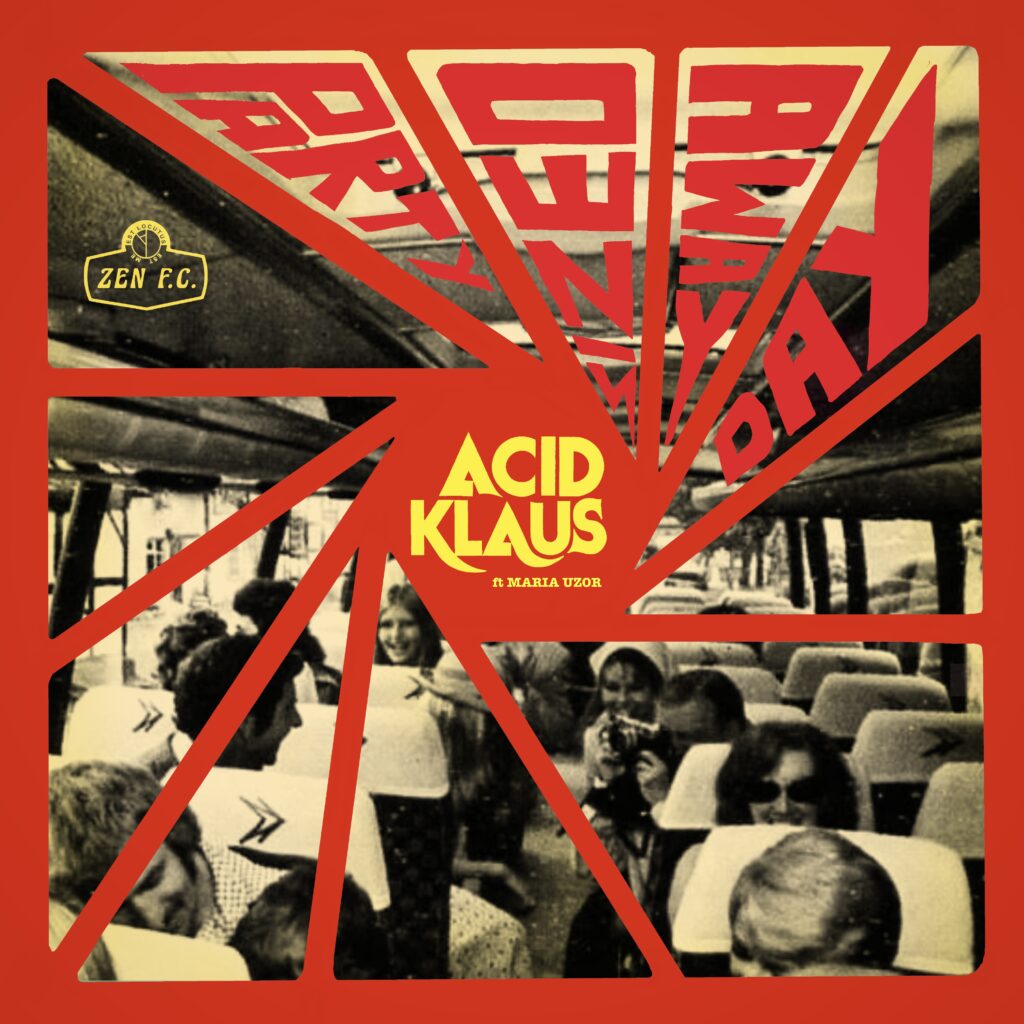 It has been swiftly signed up to the ever growing and musically diverse record label – ZEN F.C, created by Leeds troubadours Yard Act, following in the footsteps of pre signed acclaimed acts such as Benefits and Baba Ali.
The first track of this conceptual journey was released this week, Party Size Away Day features Maria Uzor of dark electronic disco duo Sink Ya Teeth and was produced by Ross Orton (Amyl & The Sniffers)
It's full of finely crafted synth beats with a body popping heavy bassline running throughout and teamed with Maria's hushed vocals, it subtly creates a dreamy dance infusion that stays in the soul long after the five minute and eleven second conclusion.
I approached Adrian a few months ago at Hebden Bridge Trades Club after catching another one of his side hustles in Adult Entertainment, who made their mark on the wide eyed punters that night supporting Teesside noise poets Benefits at the stalwart West Yorkshire venue. He very politely agreed to an interview with NDR.
* This interview contains a small segment that discusses substance abuse/addiction.
We at NDR are committed to creating an open discourse around such subjects in the music industry to challenge and identify issues that we ultimately hope can lead to a better environment for artists and musicians.
What kind of artists/musicians have inspired you along the road to eventually lead to this Acid Klaus project?
'I think because of the pandemic I ended up listening to a lot of old records I loved as a kid so lots of early electro & New York hip hop like Afrika Bambatta and volumes 1-4 of them old Electro street sounds compilations from the 80's.
There's something about those records that really excited me as a kid that I feel I lost a bit getting in to the more dour and sardonic bands coming out of the north of England in my teens – and it just inspired me to get the old 808 drum machine out and the 303 bass synth and try mix that with some more abstract avant garde and dubby sounds and see what happens.
Plus, We weren't able to leave the house much for 2 years, my whole industry had stopped dead , so no gigs meant no money, but on the other hand I'd been touring & writing & recording and releasing multiple projects consistently for about 8 years up till that point with no break from it – and then pre-pandemic my Gran died (who I was very close to) and lots of people who were very important to me had died all over the space of a year and I just kept touring and writing throughout.
When most people would just take time out to grieve and collect themselves I just drank quite heavily and just ploughed on through whilst really struggling mentally, really really depressed and not particularly nice to be around at times, even at live shows (I was touring mainly with international teachers of pop at this point ) I almost had a heroic death wish in my attitude towards the audience, I was very committed to the art of being dangerously provocative and loathing myself and wanting to die.
So the forced stop brought on by the pandemic ironically, probably saved my life..I was able to see things and people more clearly and reevaluate what and who was important to me and give my own head a wobble and just have some solid time out from other people which is inescapable when yer an old road horse like I.
I was also being incredibly creative, writing a couple of tunes a day, it felt like a real luxury but with no one being able to pop round my house to do music with me, I just sent messages to a few new artists and singers whose work I liked and asked if they wanted to collaborate on some tracks and was surprised that everyone said Yes and the first person I sent to was Maria Uzor from Sink Ya Teeth who's vibe I was really in too.
Acid Klaus was certainly done by accident not design. In fact it was originally just an Instagram pandemic thing that I called SHIZENHOUSEN MUSIC (shit house music) where I'd demo some rough ideas and whack them on my Instagram with a little daft video. But as this year develops and the finished Acid Klaus debut album comes out you will find there is quite a cool little concept attached to tie up this collection of actually really ace tracks.
I hope people take to it, I've got a bit of a evolving and revolving live band to help me do the tracks live too – as all the singers on my album come from all over the world it's not going to be humanly possible to get everyone in the room to tour it at the same time, so I've got a cool little collective of dudes to help me recreate it all in a fun and ass shaking way live!'
How did it come about that you ended up collaborating with Yoko Ono & Sean Lennon? Wasn't that quite mad?
'My other band, The Moonlandingz – which is an offshoot side project of the Eccentronic Research Council that I do occasionally with my co-producer/writer Dean Honer plus Lias Saoudi & Saul from The Fat White Family.
We recorded our first album in New York at Seans studio, Sean co-produced the record with us, he's a good mate of ours. It was a beautiful experience, a really nice studio in the countryside where we were able to 'get deep' into the creative zone with no distractions of the city. Anyway, We had this real heavy freak out psych track that was to end the album called 'this cities undone!' which reminded me a bit of tracks from Yoko's 'Approximately infinite Universe' album and half jokingly I said to Sean 'you should get yer mum on this one!' Sean totally got what I was saying and thought it was a great idea – and then I never mentioned it again.
We wound down the first few weeks of recording and we flew back to the U.K. and about 3 weeks later I'm watching some performance art musician from Denmark making music with a hose pipe and a bicycle wheel – in a bring yer own booze DIY space in Sheffield on a bleak winter evening – when my phone vibrates in my trousers!…it's an email from Sean with the heading 'MumLandingz' .. I quickly jib outside and open the email and inside is a video of YOKO FUCKING ONO doing her thing in a studio in LA over our tune.
It totally took my breath away, quite a moving experience really as Yoko is definitely my favourite Beatle. She was punk, new wave, avant garde, feminist, activist before all of them and has taken a lot of shit for being so – whilst opening the door and making it easier for those who followed in her wake to exist..Even today she still seems to rile up boring middle aged men who like so called serious music.
Funnily, I was invited to meet her backstage at a gig in Central Park but I was too nervous so I just watched her show instead – which was incredible . I think it's important sometimes to know your place – and my place at that moment was in the crowd with the rest of the peasants!!'
If you could collaborate with anyone in music, who would you pick?
'To a degree I have already at some point worked and got to know lots of people whose music or art I respect. The only one left is Jane McDonald. Why? Because she's been Yorkshire Women of the year!!'
From your own experience, are there any DIY haunts that you can recommend for people looking for that kind of vibe?
'Sheffield in the main is very much a DIY city – or run by independent business heads – from the venues – to the many many independent boozers, breweries and shops..For me that's the real beauty & spirit of the city that has made me live & stay here for 20 years of my life.
I love places like Delicious Clam, a 70+ capacity venue in a what used to be a small shop on the edge of town where you can see some ace scuzzy rock and roll band like crack cloud or amyl & the sniffers in a sweaty room – but more importantly where you know almost everyone in the room – and if you don't – by the end of the night you'll be on talking terms with them. Or places like Hatch where you can see the more experimental weirder stuff from the EU – which incidentally was the venue I was in when I got the Yoko video sent to me.
These places to me are infinitely more important than the cold, soulless enormo-shit pits taken over by phone companies. The little places off the beaten track , run with some fucking love and spirit are the places where real community resides and where you find the true counter culture and from where kids form bands and life long friendships are born.. revolutions are not born in O2 academies, Wetherspoons and Costa Coffees!!'
Substance abuse has plagued many artists over the years, I was wondering if it's ever affected your output, either negatively or positively? And why do you think it continues to be a problem in the music scene?
'The music industry is run and controlled by alcoholics and drug abusers.. it's encouraged, it sells papers, it sells records, it prays on the blood of sensitive & vulnerable musicians.
Also musicians not being the sharpest tools in the box fall for the cliche of the so called 'rock & roll dream' time and time again..the fact is being in a band is actually unnaturally boring most of the time – there's nothing natural about being stuck in a 12 foot tin can on wheels for hours travelling to a gig every day , looking at the same faces, then being stuck in a graffiti covered windowless cubby hole behind a stage listening to the depressing sound of a drummer soundchecking his kick drum for 20 minutes every night, then the thud and twang of the support band – all whilst a fridge full of beer and wine beckons you from across the room to heartily drink it, to drink it all!!..Then some mate turns up with the magic mushrooms or something else then all of a sudden a very long day becomes a very long night..it's a viscous roundabout.
But it is possible to say No if you want to!?
Just remember that beer in the fridge is being paid for by you, so as an incentive you can always get that cash added to your fee instead and – I don't know – buy yourself a juicing machine!!?? The Rock & Roll dream is just a piss poor concept for controlling our young and mentally vulnerable and capitalising on it.
It's bullshit stacked upon bullshit and as long as there's another young buck with a guitar eager to be heard – that bullshit mountain will just keep on growing !! I'm just happy loitering around the bottom, grabbing any dropped change from the pockets of those who like heights!!'
Acid Klaus Live
22.07 – Standon Calling (festival appearance)
22.09 – St Lukes, Glasgow – with Yard Act
23.09 – NUSU, Newcastle – with Yard Act
24.09 – Academy, Leeds – with Yard Act
Photo Credit – Duncan Stafford