On warm summer's days in Hyde Park, the streets radiate in a lethargic daze infecting anyone who walks it's pavements. Nobody is found inside. Back alleys are blockaded by students volleying footballs up and down their drives while disposable bbq's fumigate all senses, acting as territorial outposts. People make the most they can of their quarterfilled sun spots in their yards, soundtracked by portable sound systems and quenched by cans of larger. Who can blame them? How can you refuse?
An evening almost reminiscent of the idolised 90s suburban America; sunshine and slacker kids, comfortably idling within a 'no rushing, laid back' ethos. At the Brudenell Social Club (the perfect setting for tonight's performance), is filled with people of all ages enjoying the British rarity of the sun, and what a better way to soundtrack the heat of the summer's evening by 90s slacker-rock legends Built to Spill. 
After nine full-length albums, Idaho's Built to Spill continue to release new music and embark upon worldwide tours. Since their inception in 1992, Built to Spill founder Doug Martsch intended his beloved band to be a collaborative project, an ever-evolving group of incredible musicians making music and playing live together. "I wanted to switch the lineup for many reasons. Each time we finish a record, I want the next one to sound totally different. It's fun to play with people who bring in new styles and ideas," says Martsch "And it's nice to be in a band with people who aren't sick of me yet." 
An army of fans exhibiting baggy jeans, t-shirts and sunglasses ponder around the beer garden eagerly anticipating the opening band of tonight 'The French Tips'. I hadn't previously heard of The French Tips before tonight, so I decided to listen to their 2022 album 'All the Rage' on my way down towards the Brudenell. 'All the Rage' showcases the band's minimalist bass driven post-punk and Sleater Kinney-esque dance-punk breaks with soothing vocal melodic layers that sound almost sample like. The French Tips have finely crafted a boiling cauldron of their favourite genres and artists to configure their own authentic rebellious pop-filled melodies.
"What began as an avenue for releasing pent up rage through music has evolved into a refuge from the personal and collective challenges of being a human over the past five years. Like the array of snacks that they always have on hand, The French Tips also fuel their sound with a plethora of influences. Punk rock, post-punk, disco, dance, pop, funk, surf, and doo wop are infused into the garage rock sound they have honed over two albums, 2019's It's the Tips and 2022's All the Rage." (Taken from https://www.thefrenchtips.com/bio)
Around 8:00pm, The French Tips walk through a purple-lit smoke-filled haze onto the Main Room stage to create a barricade formation of bass left, guitar central, and drums on the right, signifying the equal importance that each member equates to their sound. The rigid rhythm section manifests into winding hypnotic layers that snowballs through the audience as each member equally applies a loop within the knot of layers. The guitarist and bassist tangle vocal melodies and harmonies upon one another over the militant, rumbling bass and drum synchronicity while each member shares vocal duties in specific parts of the song.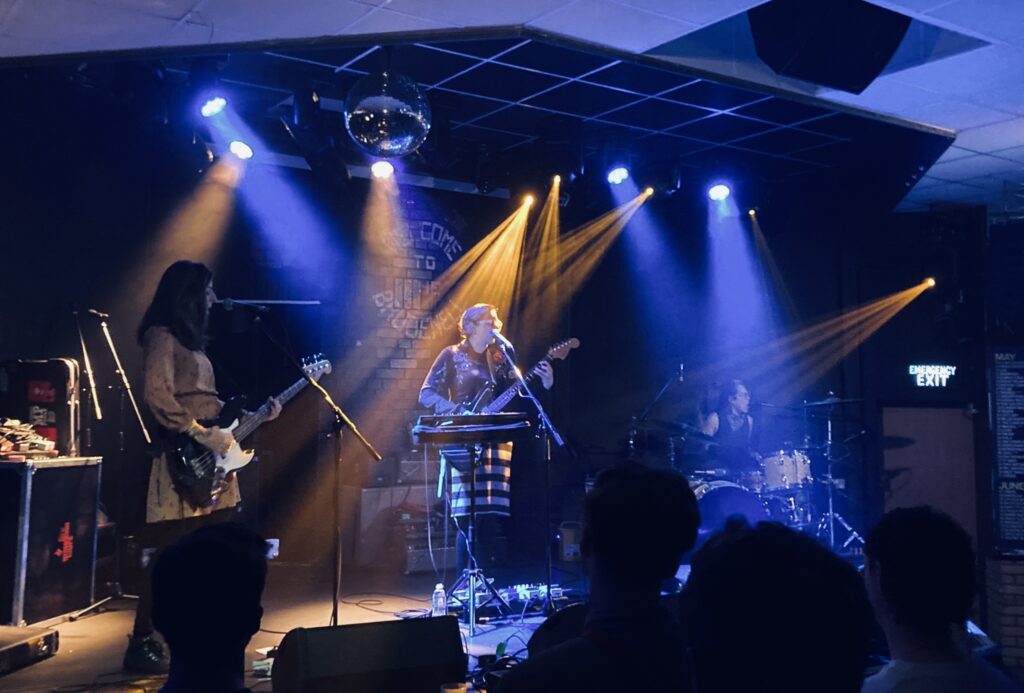 Just when you think they are about to explode, and no more layers can be applied to their spiderweb of sounds, the feeling is abruptly bypassed and transitioned into an alternative direction of psychedelic breakdowns and dance-punk stompers. I noticed many lyrics implying a sense being stuck and struggling to breathe, which is perfectly amplified and reflective through the frantic, caged-like sound structure that The French Tips tangle you within. I am really excited to see which avenue The French Tips will go with their next release, if they will stay within their signature sound of 'All the Rage', or if their multitude of influences will dictate them in another direction – no doubt it'll be executed great, whichever direction. They wouldn't sound out of place on BBC's 6 Music or on the UK festival circuit.
After a short interval in the remnants of the sun, I get myself a drink and make my way down to the front for the main act this evening, Built to Spill. Arriving on stage around 9:00pm, Doug Martsch makes his way to the centre of the stage to tune his guitar while bassist Melanie Radford and drummer Teresa Esguerra situate themselves at either side before dropping straight into 'Stab' from the 1994 album 'There's Nothing Wrong With Love'. Stab introduces the contorted jams and poppy melodies which build themselves into distorted nostalgic chord progressions signature of the Built to Spill sound. A blissful opening to welcome the audience into the sacred and beloved world of Martsch.
The three piece power unit continue through some of the more recent tracks from BTS discography, like 'Bad Light', 'Gonna Loose' and 'Hindsight', captivating the audience and dictating simultaneous bobble head jolts throughout the journey. There is an rigorous instrument tuning silence in-between each track, no scripted speal, no shit talking, or audience 101 participation, just straight up pure musical expression.
Martsch's Neil Young-like innocence is musically translated and piled out into the audience over string bending, reverb splatters, and jangle flutters that allow memories of adolescence to rush through each chord, fading across your consciousness and reminding you of nostalgic times of idling in a summer daze.
I'm not sure what exactly it is about Built to Spill, or the slacker-rock genre sound in general, but the way it creates a reminiscence and sentimentality of youth just fascinates me. Whether it's the juxtaposition of the traditional rock sound and the unorganised song structures and uses of instrumentation that feel like the song is about to fall apart at any given minute, I'm not sure. I mean, I never listened to Built to Spill growing up, but standing here now it feels almost as if I have listened to them since I was born and they have soundtracked my life. Or, whether it's the Hollywood influence on films and TV, and how similar music has been used previously to imply feelings of nostalgia, like Clerks, Jay & Silent Bob, Beavis & Butthead, and Kids. I'm not sure, but it's wonderful either way.
An impressive cover of the Halo Benders 'Virginia Reel Around the Fountain' and Cate Le Bon's 'Are You With Me Now?' was enjoyed by the audience, and came as a refreshing surprise hearing Martsch cover both the songs in his authentic bittersweet indie rock style, as heads of the audience fall around their shoulders to the sound of the late snare pops. An extended version of 'Mess With Time' from the 2006 album 'You In Reverse' was jammed out in a gracious Grateful Dead style, exhibiting the talents of the current Built to Spill lineup. Bassist Melanie Radford bounces back and forth choreographing the tangled beat and joining in with the back vocals for the choruses.
Just short of an hour and half of playing hits such as 'Reasons', 'The Plan', 'Carry The Zero' and 'Distopian Dream Girl', Martsch leisurely waves at the crowd and thanks them, and says 'he's really enjoyed it' as the house lights come up and makes his way to the back of the stage. Slacker rock isn't dead. It might have left musically, but the ethos of the genre lives on throughout many of the modern artists around today.
A highlight of the show was 'Kicked It In The Sun' from the 1997 album 'Perfect From Now On' as Radford and Esguerra beam with happiness and sing-a-long to the words while Martsch eyes-closed gazes up towards the ceiling singing "By the time you read this, you kicked it in the sun. It was all that you could do, how could you refuse" a perfect summary of the warm Monday evening on the 5th of June.