It has been over two years since anti-folk icon Jeffrey Lewis last visited the UK in January 2022, which may provide an answer to why his current tour, with his band The Voltage, is sold out on every date from Newcastle to Bristol. Another reason for the roaring success of the tour may be the simple fact that Jeffrey Lewis is an incredible songwriter and his live performances are legendary – as was proved beyond doubt when he performed to a sold-out crowd at The Lending Room on a rainy Tuesday night in Leeds.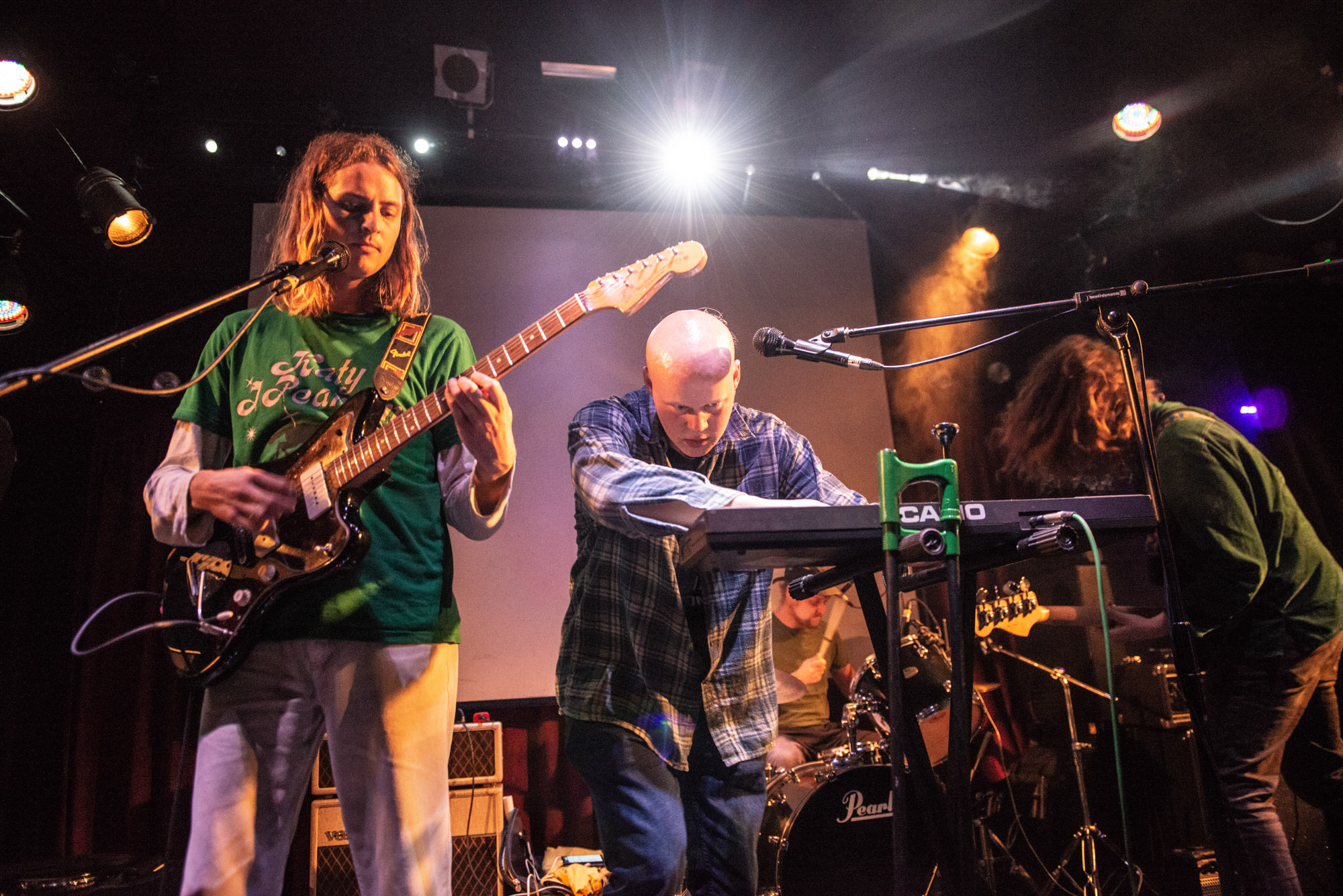 After an excellent – if slightly drunken and chaotic – set by York-based Bull, Jeffrey took to the stage with The Voltage and it became immediately clear that the crowd were in for a spectacular show. The set began with the sombre 'Heavy Heart', from Jeffrey's first album The Last Time I Did Acid I went Insane (2001), set against a psychedelic pattern projected onto the backdrop of the stage to create a mellow and hip atmosphere. The NYC native played a selection of tracks from across his extensive discography. Despite there being a disappointing lack of material from his most recent album Bad Wiring (2019), the versatility of the setlist more than made up for this. Versatility in sound and performance is not uncommon in modern music – or in any artist worth their salt – but Jeffrey Lewis is perhaps the only artist whose setlist includes emotional, existential anti-folk songs mixed in with fast-paced punk-influenced tracks and, of course, lessons on the French revolution. As fans of Jeffrey Lewis will already be aware, the 46-year-old often performs narrative songs which he calls "animated documentaries". These parts of the performance featured both historical and fictional stories told through song, accompanied by Jeffrey's own illustrations as a visual aid. There were three of these animated documentaries spaced evenly across the set: the story of the French revolution, a light-hearted horror story called 'The Creeping Brain', and a history lesson in the CIA-backed coup in Chile which overthrew Allende in 1973. These educational songs were a really fun addition to the set, and also helped to break up the performance so it never felt as though it was dragging on – though, truthfully, the set could have been upwards of 3 hours and there would have been no complaints.
The highlight of the 90-minute set was arguably Jeffrey's blistering performance of his 2005 song 'Williamsburg Will Oldham Horror'. The album version of the track is impressive enough, but the live performance is truly something to behold. Complete with comedy, existentialism, melancholy and a top-notch impression of Bob Dylan, what is there not to love? It was delivered quickly, in an almost John-Cooper-Clarke-esque fashion (though without his trademark Salford sneer), with a tempo much faster than that of the album track. There was a short moment of stunned silence when the song came to an end, as the audience at The Lending Room tried to absorb the stunning performance they had just witnessed, before erupting into thunderous applause. Mind you, the feat of being able to remember all those lyrics, 17 years after their initial release, is worthy of applause in itself.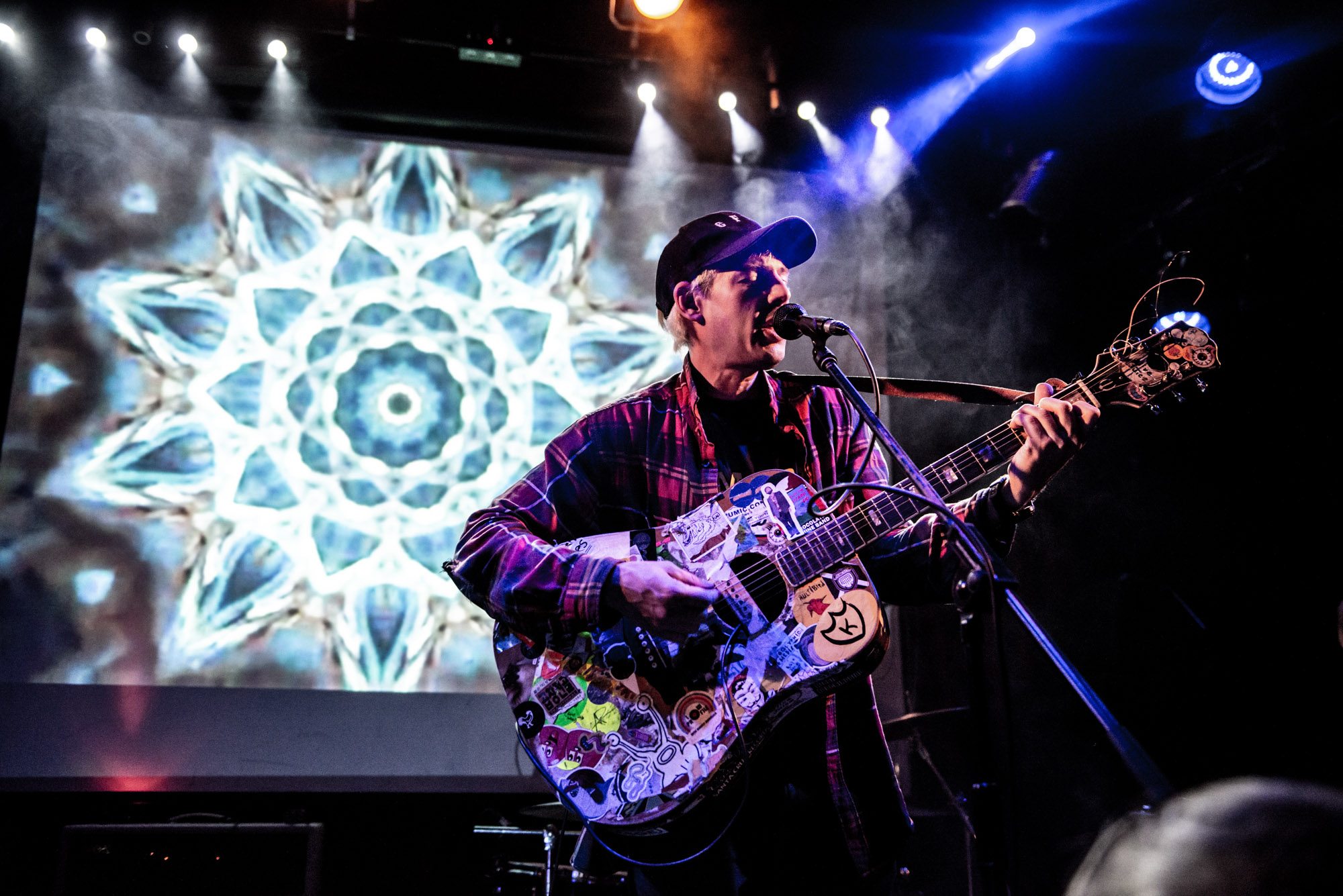 As the set drew to a close, somebody to the side of the stage pleaded, "Cult Boyfriend, please", but Jeffrey does not take requests. Though, admittedly, it would have been nice to hear some of his more well-known tracks, what he delivered instead was simply incredible. As a special treat for the audience in Leeds, the pre-encore set concluded with a fantastic cover of 'Damaged Goods' by Gang of Four. Covering such a well-loved song in the city that produced it could have been a bit of a risk – but you need only to look at Lewis' album of Crass covers to dismiss any fears of punk sacrilege. After a set of such variety it felt fitting to end with a joyous, energetic and fun cover, which seemed to go down very well with the audience.
Lewis returned to the stage, minus his drummer and bassist who had gone to man the incredibly well-stocked merch table, for the encore. This consisted of a handful of more melancholic tracks, including some unreleased post-covid tracks which sounded phenomenal and will hopefully feature on a future studio release. The encore provided a perfect end to what was an unbelievable gig, certainly the best gig in recent memory for this reporter.