Blending 1960s pop with a classic punk sound and ethos, Nervous Twitch have been a staple of the local music scene in Leeds since the release of their first EP, 'Bad Reputation', back in 2013. In the intervening years, the group has undergone various line-up changes and have released multiple albums and singles via various different independent record labels, including Odd Box and Punk Fox. Having been a noted Leeds-based punk band for some time now, it feels appropriate that I met with Jay and Erin from the group at the legendary Leeds venue Brudenell Social Club to find out a bit more about the future, present and past of Nervous Twitch.
The group currently operate as a three piece, and have done for some time, with ex-drummer Erin Hyde now fronting the band and playing bass, whilst Ashely Goodall provides the drums and Jay Churchley, the only remaining member of the original line-up, supplies a seemingly endless amount of excellent guitar work. Describing the history of the Nervous Twitch line-up, Jay explained, "It started out as a kind of solo project. Me and three other guys played like two gigs and then the drummer dropped out. Erin had a lot of time on her hands, so she took up drumming, I was just like 'do you wanna be in my band?'. So that's how it started. Then Erin went onto bass a few years later because we kept having line-up changes". With numerous line-up changes, it is easy to see how the groups approach to making music might have changed, but this is perhaps most true of frontwoman Erin, "This is the first proper band that I've been in, apart from one that lasted about 3 practices when I was 17. I've gone from just bashing drums to learning a completely new instrument, writing songs, singing, fronting". Apparently, during the initial stages of the band it was Jay who acted as the sole songwriter, but nowadays the process is more of a 50/50 split between Jay and Erin. Despite being based in Leeds, none of the group are native to West Yorkshire – with Jay hailing from Hull, Ashley from the North West and Erin from Chester. Clearly, though, the band has a lot of love for the city, "For us as a band it's a good city to live in because there's a lot of good venues to play at and go to, and you're not that far from Manchester, Hull, the North East, Nottingham – even Glasgow or London it's only 3 hours or whatever. It's a good place to live, especially if you're a musician".
The band have been operating under the current line-up for the past few years now and it appears to be working well for them. Last year, they released a self-titled album through Reckless Yes Records – an ethical, independent label releasing work from the likes of Fightmilk, LIINES, and Turkish Delight among others. The 2021 album is the band's fourth album, the previous three being released via the, now defunct, Odd Box Records label. Alongside the albums, Nervous Twitch have released a handful of singles through the Leicester-based independent label Punk Fox. "Being independent in music is hard, we've been lucky to have the backing of small labels, but I guess it can be a bit of a ruthless industry", commented Jay. Expanding on the independent philosophy of the group, Erin said, "I feel quite in control of what we're doing. On top of that, the people that we work with, they do it for a similar reason why we do the band – for the love of the music. It's not a money-making thing, you just love what you do. Knowing you're passing your art onto someone that reflects your commitment to it, I think that's a really special thing".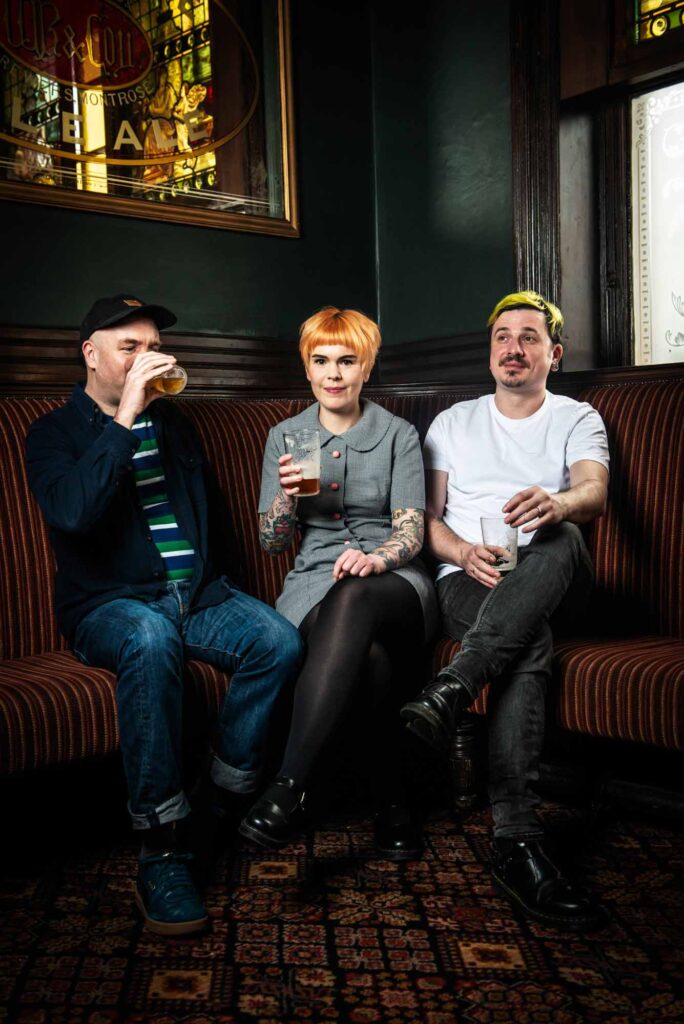 Thankfully for fans of the independent music scene, these releases show no signs of stopping; the group are planning to release another album through Reckless Yes towards the end of 2022. The follow up to their self-titled release is set to see the group explore different influences from the world of indie and grunge. "I think it's the best one we've done. It's definitely a follow up to the last one, but it has some longer songs, for us, it's quite a long album compared to the others – it's only about 35 minutes but that's long for us" said Jay of the new record, "We worked on it through most of lockdown and post-lockdown, recorded all of it in 2021". The pair assured me, though, that the album will not lose the trademark Nervous Twitch sound that the group has become known for – characterised by influences of 60s pop, garage, surf rock and good old fashioned rock n roll. Asked about their 1960s influences, the pair explained, "We've always been into bands like The Beatles, Shangri-Las, The Kinks, The Ronettes, but now we're quite into 80s bands that were influenced by that sort of sound: TV Personalities, Jesus and Mary Chain…we're just drawing inspiration from the same places. I think ultimately we're quite inspired by crafting a good pop song and the 60s is the ultimate era when that kind of thing happened". You can certainly hear these influences within the Nervous Twitch discography, but the group manage to inject their own unique take on proceedings, leading to a very distinguishable and original sound.
On the topic of influences, it was recently announced that the band will be supporting old school punk legends The Rezillos at Brudenell Social Club on the 2nd of September, a dream come true for Erin: "They are my teen heroes, so I was really chuffed. They're brilliant. They're like a punk band but they've got a really rockabilly, rock n roll sound but they sound original still" (I suppose you wouldn't be far off if you described Nervous Twitch in the same way). Alongside supporting The Rezillos, the band are also putting on an all-dayer, Part-Time Punks, at beloved Leeds venue Wharf Chambers on the 30th April, featuring All Ashore!, The Anderson Tapes, Crumbs, Diablo Furs, The Dirt, Duck, and The Red Stains. The band spoke of the importance of not being tied to one genre, "It's good to play with different types of bands – like indie bands, punk bands – it's nice because you have different audiences. It's nice that we span across scenes rather than just sticking to one", which is an attitude reflected in the line-up for this mini-festival.
With numerous great gigs planed, alongside a new album on the horizon, Nervous Twitch seem to be going from strength to strength. It's unclear where this journey will take the band, but if the music is anything to go by, then it is sure to be a joyous mix of 60s-influenced pop, catchy punk riffs and a great deal of dancing!