Deer shed Festival returned to a full capacity event after hosting a socially distanced festival in 2021.
Before getting to the nitty gritty of the wide varying acts witnessed by us over of the weekend, let's dispense some of the more boring but essential details about the festival.  The inclusion of a large trolley hire is a stroke of genius, for a massive six quid, I was able to lug two tents and all the equipment required for a modern festival. Not once in our three days did I recoil in horror opening a toilet cubicle door, in fact, they were always incredibly clean. 
So on with the review, Friday sees us bimble aimlessly towards music emanating from the dock stage. Beija Flo are mid set, it's a theatrical performance.  The front woman is really pushing what's acceptable to a child friendly crowd, while keeping the rest of us adults amused with her mid song banter. There's a real Courtney Barnett style to her delivery, a real don't give a fuck attitude. She informs us she has a set at the kids tent after, I can only imagine that being quite interesting.
Over at the main stage, this year's hardest working band Yard Act play a surprisingly early set, bearing in mind their surge in popularity this year.  Dispensing of 'Fixer Upper' as set opener, the band play an incredibly tight set. Having seen Yard Act several times this year, it's plain to see they really have muscled up for festival crowds.  Finishing with a rousing 'Overload', James pulls out a young doppelganger, resplendent in matching glasses and trench coat.  Oliver's weekend is made along with many other Yard Act merch wearing devotes.
Nervously shuffling on to the main stage with nothing but a laptop for company, Billy Nomates looks a bit lost in the huge expanse of the arena. As soon as her laptop kicks out the first beats of "NO", all bets are off for the title of top performance of the weekend. The energy of the performance is incredible, every song accompanied by mesmerising jerks, twists, and general aggression. As performances go, Deer Shed peaked by 8PM on the main stage.
Moving back to the Dock, Snapped Ankles deliver a sublime fifteen-minute version of "Rhythm is our business". The bands outfits are quite subdued compared to their usual tree-based ensembles, with the front man's face almost visible. This is probably lots of young kids first introduction to a rave in a forest, fair play to them.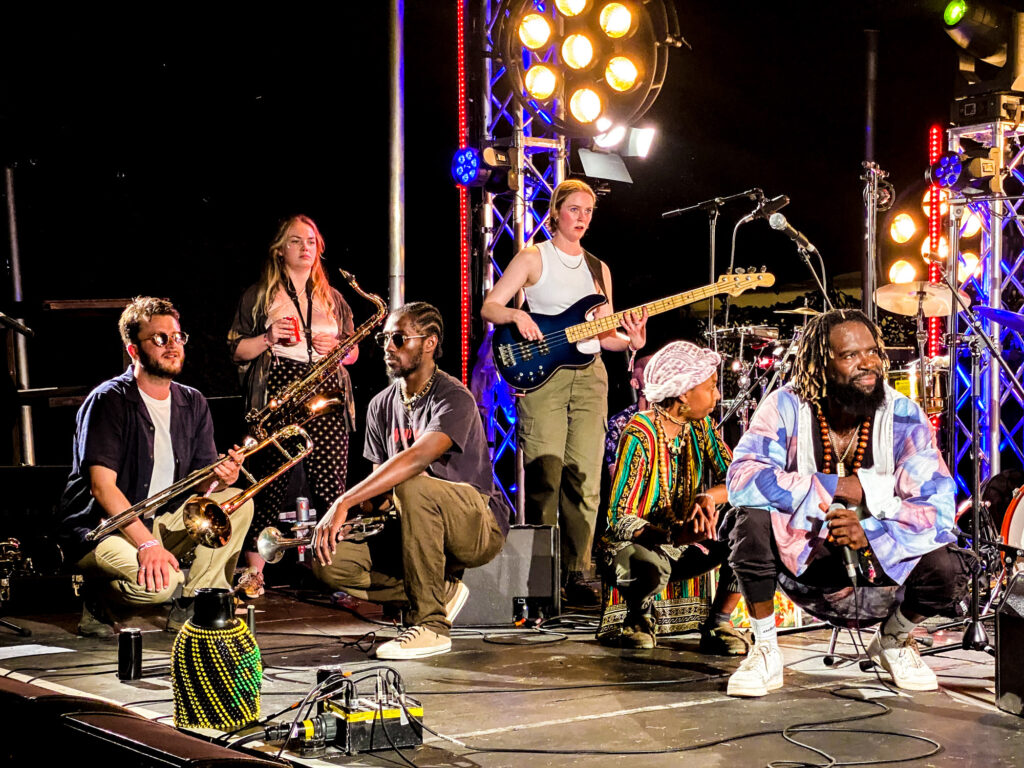 Just before bed, I head over to the Lodge stage to watch TC and the Family Groove. The tent is heaving and spilling out on to the walkways. It's a ten-piece band and they just about manage to find enough space to perform. Blending afrobeat styles with jazz, it's an inspired performance, the addition of a DJ mixing in samples adds the proverbial cherry to the top of the cake. A perfect way to end day one of the festival.
Day twos rain pisses on our parade a little, however there is more than enough covered entertainment on site to keep everyone happy. We run out of the rain smack into the middle of a kids rave, the Gruffalo rap was an absolute banger to be fair and we enjoy the confetti canons and huge beach balls way more than any full-grown humans should do.
The rain works in the favour of Porij at the Dock Stage.  Eggy strolls on stage in an oversized suit not dissimilar in look to an early 80s era Neil Tenant of the Pet shop Boys.  If there was ever a band happy to be on stage it's Porij, front person Eggy is beaming through every second of their set. It's a bold move for any band to consider covering "Everything in it's right place" by Radiohead, however Porij's dance influence make the cover just enough Porij and just enough Radiohead to work.
In a similar vein to yesterday's Yard Act, Self Esteem have had a meteoric rise this year. Playing the main stage with full band and a trio of backing singers, it's a very slick set. It's probably a set that doesn't fit with the sensibilities of lots of the radio 6 dads on site, however it's impossible not to be impressed with the choreography and vocal abilities on show tonight. Future headliners of next year's festivals around the UK, without a shadow of a doubt.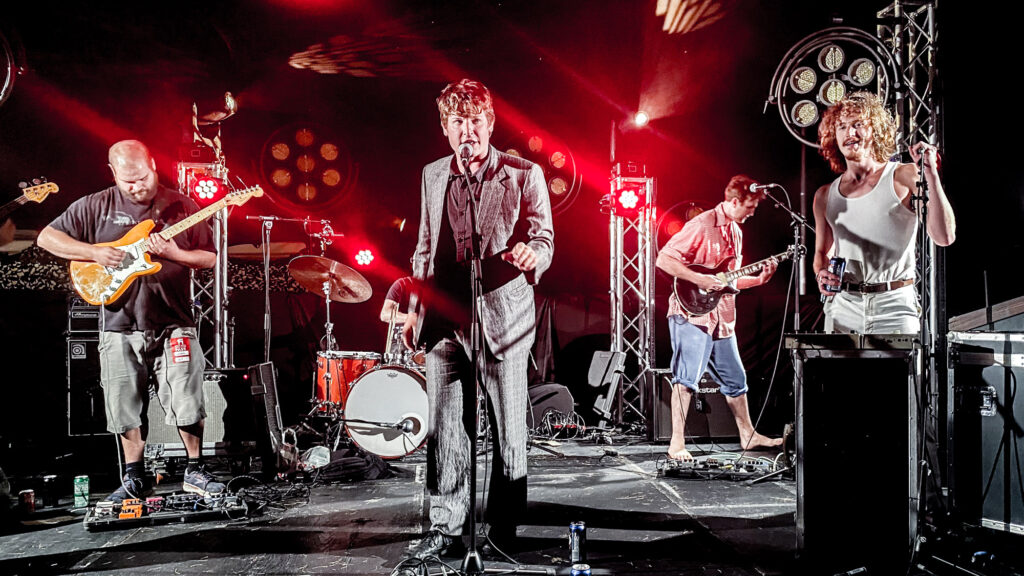 Over at the lodge stage, Keg are pulling in a few punters. It starts off as a sparse affair. Imagine Devo and Squid father a love child, you would be getting close.  The band themselves are a tight unit while at the same time, things seem quite chaotic, this works as a perfect mixture. Song three of the set kicks in and I look behind me to see a completely rammed tent, things go up a notch and things reach critical mass as an inevitable mosh pit envelopes me. Arms and legs are everywhere and many of us fat 90's indie loving dads must admit defeat and watch the spectacle from further back. The gig has all the trademarks of a classic Fat White Family or a similarly mental early Cabbage gig. This is one band to keep an eye on in future for sure.
A Sunday midday set makes for a strange bedfellow for post punk band Tree Boy and Arc. This doesn't dissuade the band from putting everything into their performance. 'Condor' is an incredible track to close on. I just wish they would get on and release that album they have been promising for such a long time, it should propel them up the rankings pretty quickly.
Before Bug Clubs massively anticipated set, I bump into comedian legend Stewart Lee, who informs me he's been told endless times to get to their set to catch them. Bug Club do not disappoint, the new tunes mix well with songs from their previous album. A warning is given to parents around the song "a love song", which outlines "how many times can you say fuck in a love song", turns out the answer is 9.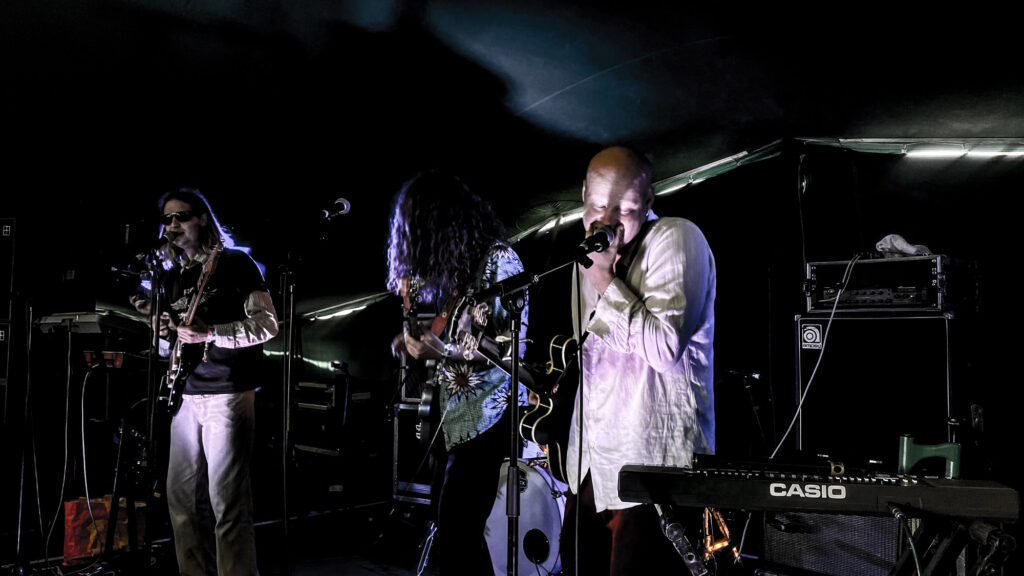 York band Bull play the Acorn Stage which has been packing out bands all weekend. If you're a Bull fan, you were in for a treat as pretty much all of their published back catalogue is played. The album is played in full, in order, followed by 3 songs from their recently released "Stuck Between the Virtual and Physical Word" EP. During the set, Tom is informed that the England Lionesses have won the European Football Tournament which leads the band to play a rousing rendition of "Its coming home". "Tired of Being Treated Like a Twit" closes out the set, the new disco direction of Bull pulls lethargic festival patrons back into action.  Why Bull aren't playing to much larger crowds has always baffled NDR. Maybe next year eh kid?
Deer shed Festival returns in 2023 with a limited number of Tier 1 tickets available now.
https://www.seetickets.com/event/deer-shed-festival-2023/baldersby-park/2385231